The main menu is the city central of the 10Time time tracking application. Its job is to get you where you need to be fast. Think of it as the main hall of a large city central station. There are huge displays telling you when and were departures are, providing you with vital information for your primary reason of being there: Travel. Also in the station you will find large signs giving you directions to the platform you need to be on.
read more ....
Close 'readMore'
The Main Menu in 10Time is more than that. It allows you to interoperate with the underlying application and information directly, giving you shortcuts to the place you need to be in 10Time. It's like a train station only with the added option of saying: "Look, I need to go to Birmingham. Give me a ticket and get me on the train. Now." And you are put on the train instantly and it is already moving.
The Main Menu in 10Time is all about giving you a shortcut to where you need to be inside 10Time to do what task you need to do. Not every task is as frequently executed as others and not all tasks are equally important as other tasks. This is reflected in the relative size, prominence and position of the elements that make up the Main Menu. Once you've logged in to 10Time you will find yourself on this menu.
Logging hours:
The most important and most used task executed is logging hours into the time sheet. Therefore it has such a prominent place. Just pick a team member name of the list, press the Go button and you're taken straight to that team member's time sheet for today.
Managing projects:
There is also an interface into the [Projects] section of 10Time allowing you to instantly access existing project details or create new projects.
Bringing up reports:
Another function is [Reports]. The main menu allows you to interface with the most used filter functions in the reports section as a quick shortcut. You can ask for the most common reports right here on the main menu. Just bring up the project or team member you want to get a report for and again press the Go button. The report you want is generated instantly.
Administrative functions:
Some items are included on the right side of the Main Menu. These include links to changing your 10Time password, inviting team members or editing team member data and an overview of your current plan. You can always upgrade or cancel your plan at any time. Or you can downgrade your plan if the conditions for the plan you want are met.

Note: For team members with the role 'Worker' not all options as described above are available. E.g. since they only have access to their own data, they don't have to select a team member. They also have fewer items available in the main navigation bar at the top of every page. More information about roles can be found at the Team Members page.
Main menu explained
---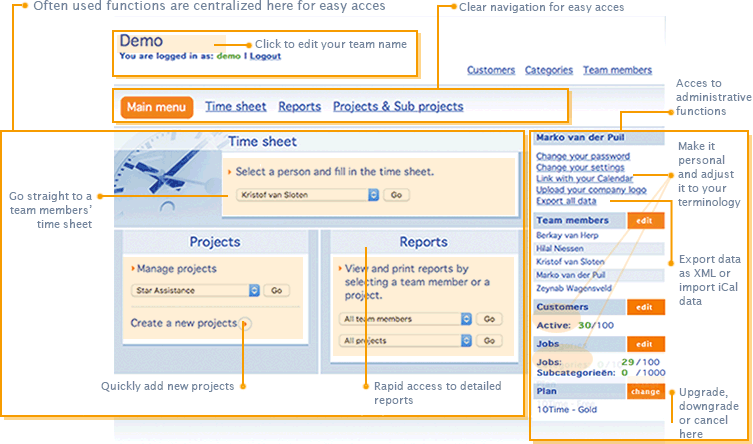 Suggestions
---
Get the feel
---