Team effort is something we find important. Time tracking takes discipline and routine. You need people you trust in your team to have the sense of responsibility to keep track of their time continuously. You need people to understand why it is important for them to log their hours every single day. Talk to your team first and tell them you are going to use 10Time time tracking software and why that is important to them.
read more ....
Close 'readMore'
Inviting team members to join you in 10Time to log hours is easy. Just add a team member's name, assign them a unique user name and enter their email address. You can optionally enter some personal information like gender and date of birth, but it is not required.
Click on Invite team member and the system creates an account and sends an invitation email to the e-mail address you have entered inviting them to join you. As soon as they have received this email team members can start logging hours to projects in 10Time.
For your billing needs, you can enter a different hourly rate for each team member. Please note that this rate can be overwritten by assigning a rate per project per team member and by assigning a rate per category. The right hourly rate will automatically be used for calculations in your reports.
Each team member is assigned a role ('Admin' or 'Worker'). As as worker, the team member can only enter his own hours and create reports with his own data. An Admin can see and edit all data. There is one exception: when a Worker is also the Project Lead for a certain project, he or she can see all hours logged on that project.
10Time is a centralized time tracking solution that is ideal for distributed teams or team members that are always on the move. You can reach 10Time from any computer with a web browser that is supported; these are
[Firefox]

and

[Safari]

on

[Mac OS X]

,

[Firefox]

on

[Linux]

,

Internet Explorer 6*

and

[Firefox]

on

Windows*

.
*
Internet Explorer and Microsoft Windows are trademarks of Microsoft Corporation.
Team members explained
---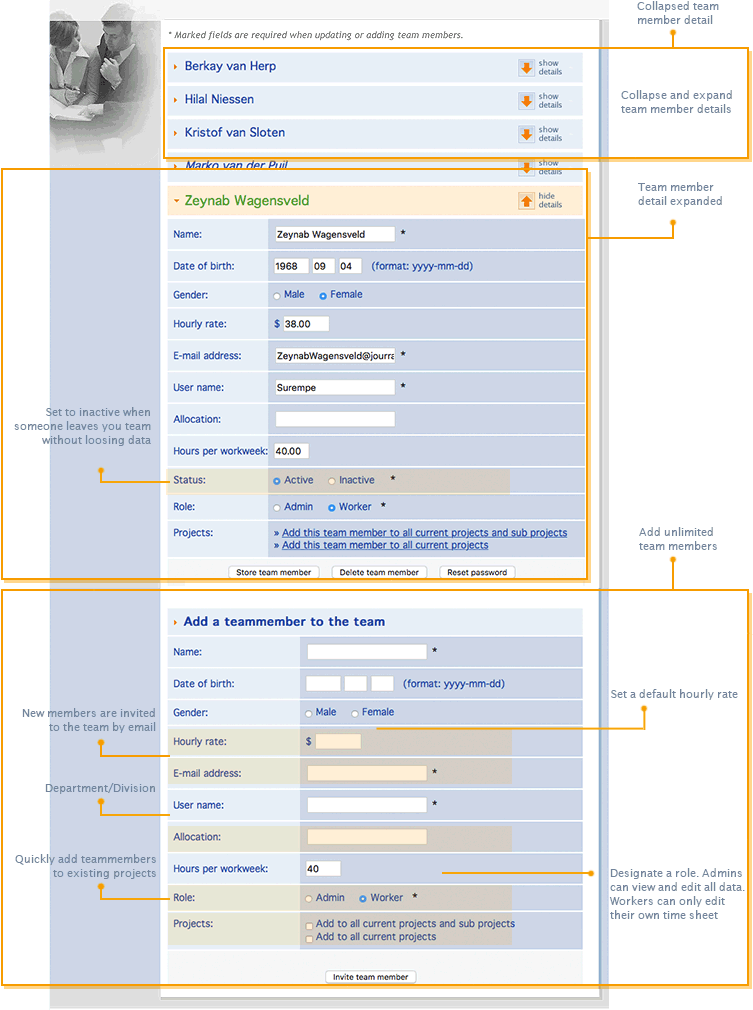 Suggestions
---
Organize your work first by using projects and categories before inviting your team members. That allows team members to get going smoothly and instantly. It also enables you to set up time tracking in an organized and structured way, just the way you want it to be.
Team members are presented sorted by name. If you wish them to appear sorted on their last name enter their names as Puil, Marko van der - Nijsten, Serge
10Time gives you your own unique web address (http://yourTeamName.10Time.com) where your time tracking solution is located. Your teams time tracking can be accessed through the internet from anywhere in the world on this unique address. Team members can bookmark this address for quick and easy access to time tracking. This address is also included in the welcoming invitation that is send when you invite a new team member. Team members should store this email for future reference.
Get the feel
---
Do you have need for a centralized time tracking solution for your team? Do you have team members on different continents or time zones? Do you have people to whom it is no longer logical to visit the office just to fill out a time sheet? Make it easier for yourself and your team and start using 10Time online time tracking.

Sign up today

.